SVM Lux S55
CLASS AND ELEGANCE WITH AN EXTREMELY LARGE TOUCHSCREEN DISPLAY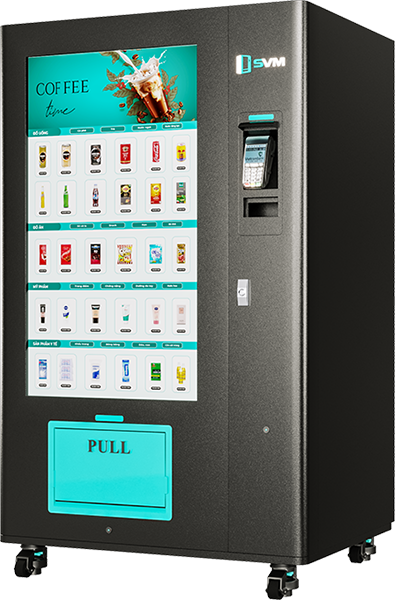 Category
Specifications
Touch screen
55 inches
Size
Height: 1858 mm, Width: 1188 mm, Depth: 905 mm
Weight
320 kg
Cargo push system
Springs
Capacity
270 ~ 800 items
Number of products
Up to 54 options available
Temperature
4 ~ 25 Celsius (Adjustable)
Voltage
AC100V/240V, 50Hz/60Hz
Payment

Cash
Cashless: ATM card (Visa, Master,…), Mobile banking, QR Code, e-wallet, Mobile money,…
OUTSTANDING & LUXURIOUS DESIGN
The SVM Lux S55 vending machine boasts a large screen that replaces the traditional glass doors. This advanced touch screen allows customers to have more control and facilitates easier product selection and access to information.
Furthermore, for enterprises, the 55-inch touch screen offers the opportunity to display and promote campaign banners, aiding in the growth of brand recognition and potentially securing significant partnership agreements.
Besides the large touch screen, SVM also possesses outstanding advantages in design and technology
» Modern, elegant black and white colors
» The inclusion of an internal lift ensures a professional and secure product retrieval process, eliminating the risk of items falling and causing dents, damages, or leaks. This feature makes it suitable for vending luxury and high-end products
» The cargo hold incorporates multi-layer disinfection with ozone, while touch surfaces undergo UVC rays and silver ion disinfection. This ensures a clean and hygienic environment for users.
» Smart sensor detects people approaching and cuts off the UVC feature for comprehensive protection for users
» Users are provided with maximum protection against shocks and lightning hazards
» The automatic voltage stabilizer ensures stable and sustainable operation of electronic circuits
» Bank card transactions remain secure even during sudden power outages
» Mobile management monitoring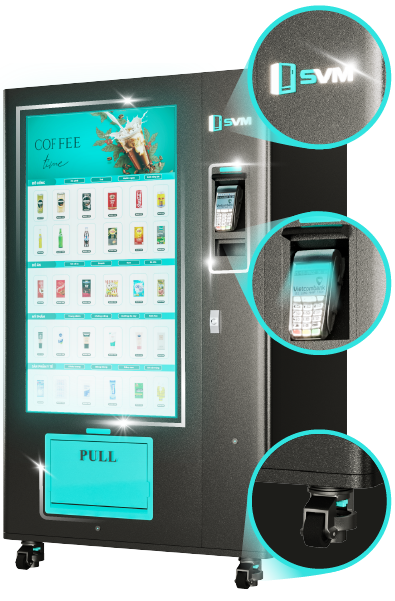 INDUSTRY 4.0
The application of advanced and intelligent technological features sets the high-end SVM Lux vending machine line apart from other products in the market.
» The integration of a POS machine allows for direct payment via bank cards
» It provides multi-platform device management, enabling control through a computer website or mobile app
» Automatic warning modes notify for restocking, machinery repair, and maintenance needs
» Unlimited storage of activity history data for each device at various locations
» Visual charts analyze data and customer preferences, providing insights to optimize machine placement and enhance sales of top-performing products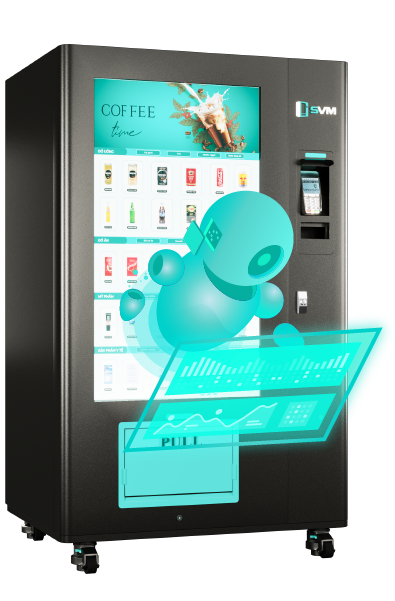 ANTI-VIRUS TECHNOLOGY MULTIPLE PROTECTION
Smart Vending Machine, a leading brand in the Vietnamese market, has revolutionized the vending machine industry with its intelligent features. Notably, it introduces the groundbreaking Anti Virus feature, providing users with comprehensive protection
» The machine incorporates ion technology with a large silver ion film, effectively eliminating 99.94% of bacteria within a mere 2 minutes
» Utilizing UVC light with a capacity of 18 mWatt, it targets touchpoints and eradicates up to 99.99% of viruses, including Covid-19, within the initial 20 minutes
» Equipped with a proximity sensor covering a one-meter diameter and a 180-degree scanning angle, it automatically deactivates UVC rays upon detecting individuals in close proximity
» An artificial ozone generator purifies the cargo hold every 4 hours, eliminating 99.99% of bacteria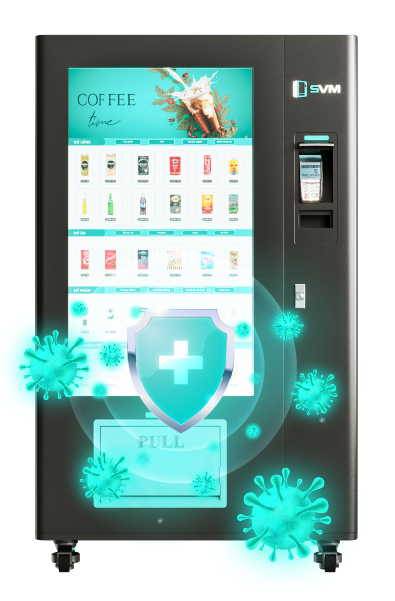 SYMPTOMS OF LUXURY
The SVM Lux S55, with its sophisticated and top-tier design, features a spacious touch screen that adds a touch of luxury and distinction. This makes it an ideal choice for placement in various prestigious locations, including:
» Golf courses and upscale sports grounds
» Grand lobbies of high-end buildings
» VIP areas within airports, hotels, and restaurants
» Shopping malls
» Airports